What is the name of your merchant booth/business?
The official name of the business is Kamala's Own LLC, but we are known on social media as Kamala's Own Magickal and Mundane Perfumery, and at renaissance fairs we keep it simple as Kamala Perfumes.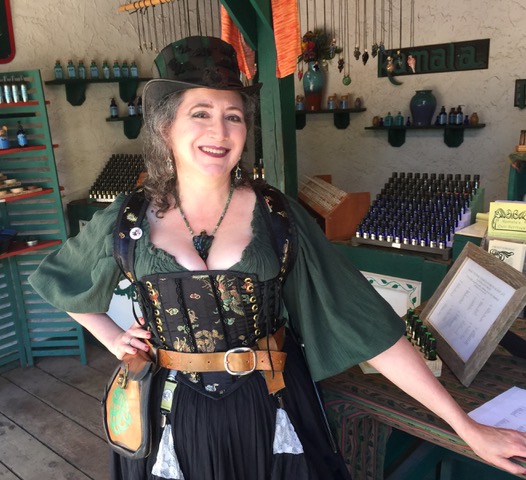 Where are you located or where is your home faire?
Currently, our workshops are in Colorado Springs. We used to be located in Chicago though, and we are planning a move back to the Midwest within the next year where we hope to reopen our brick and mortar store.

What is it that you sell?
I make and sell essential oil blends, perfume oil blends, massage oils, bath salts, soaps, lotions, body powder, incense, and herbal teas. I also sell pure essential oils, incense burners, and scent pendants. I started as a pure aromatherapy business, but expanded out into perfumery and incense. I love making people smell good, but I also love helping people with natural products just as much. I'm a healer at heart.

When did you start  vending at Renaissance Faires?
I started this business a year after graduating from Harvard. I had wanted to be a diplomat, but got disenchanted by that idea after a stint teaching English in China in 1985/86. I started renaissance fairs in 1988. I had a trial run at King Richard's Faire in Massachusetts where I was living at the time. I soon moved to Illinois and started the Bristol Renaissance Faire and the Colorado Renaissance Festival in 1990. I later added the Ohio Renaissance Festival and the Virginia Renaissance Faire.  Sadly, Virginia did not last and I left the Ohio fair in 2003, so now I just have the two.

Why Renaissance Faires/Festivals as a venue?
Renaissance fairs offer me the opportunity to expose my products to a large crowd of open minded and fun loving people.  The atmosphere is uninhibited which seems to allow people to expand their minds in a way which is helpful to my business. Aromatherapy and herbalism can sometimes be scoffed at. In the renaissance fair atmosphere, they seem more natural (haha) to people. Besides, it's just, plain fun and I meet amazingly talented individuals.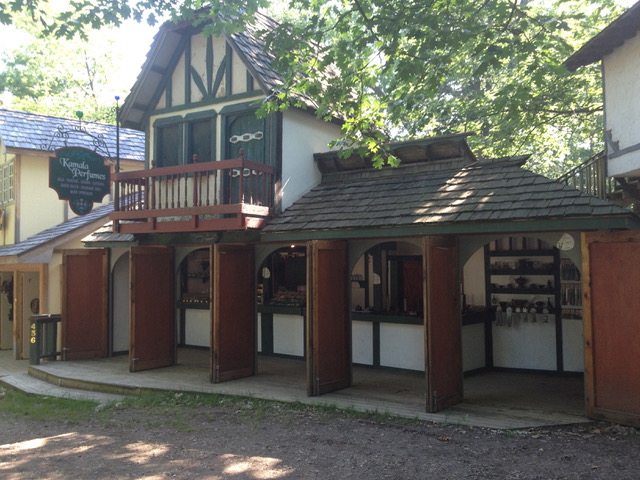 How else do you promote your wares?
I have my own web store, I'm on Facebook, Instagram, and Youtube. I started a podcast on Anchor as well, but I haven't done much with it. I'm also on Etsy, but that hasn't been the best platform for me, so I'm actually scaling back my Etsy store.

Do you travel from faire to faire or do you just have one faire that you are a steady at?
I do both the Bristol Renaissance Faire and the Colorado Renaissance Festival.  They overlap, so my fair season is extremely stressful during that overlap time.  During the cold months, I also do metaphysical fairs.

What are your top 3 things you can NOT be without at Faire?
My mug (must stay hydrated!), my pouch (need to stash that cash!), and my Coolth Schpritz (to help both myself and others stay cool and happy). (https://kamalas-own.myshopify.com/products/coolth-schpritz)

  What is your top 3 things you advise to new people coming into this business?
1) Know your strengths and play to them. 2) Try to look at your craft like someone who has never seen it before. It makes it easier to explain it to people in a coherent manner. 3) Remember that rude comments about your shop are not necessarily reflections of your mistakes.  They often have more to do with the kind of day the commenter is having.  Don't take things too personally.

  Would you consider a small faire vs a larger faire and why?
At this point, I would not even consider a one day fair at all.  It takes a good three hours for me to set up and take down for a weekend event. All that work is not worth it for one day. In deciding to do a new fair, I need to balance the fees, the time at the fair, the travel, and the attendance to decide whether or not I'm interested. I'd like to add a third renaissance fair at some point, but I'd like to put my retail store back together before I consider that.

Plug your website/fan page here:
Shop our products at www.kamala.comWatch the youtube videos at youtube.kamala.comFind us on Facebook athttps://www.facebook.com/kamalasown?ref=hl