What is it that you do or sell?
I am a therapeutic art life coach, and artist, I use both of these talents and skills at the renaissance faire for children, teens, and adults who want to tap into their inner child! I sell wooden items, such as fairy doors, shields, and more for them to sprout creativity. I teach that is the process that counts.
Where are you located?
I live in Connecticut currently but I am a travel based business. That means I'll come to YOU! Currently working on getting a camper van to travel across the US for both Faires and Classes!
What got you interested in starting out in this business?
I started going to fairies when I was 15. I also started doing art and took the risk in 2020 to apply for
Robinhood's Faire in CT. I was questioning myself at first, like how can I make this fit into a renaissance faire theme?! I took the leap, and I did it! Since then I have been traveling and doing Faires, and Cons in different states! Our next Faire is Delaware and I couldn't be more excited!
When did you start selling or performing? In general or at renaissance fests?
I started selling in 2014, well, a little before that but that's when I officially started my art
business, and from there it has progressed into what it is today.
What was your local faire or home faire?
My local faire is Connecticut Renaissance and The Robinhood Faire both in Connecticut.
How are you compensating for this strange time we are in now?
I compensate by providing online and in-person art life and coaching classes, as well as doing some side hustles to maintain my income when bookings are slow, and fairies are far apart. I would love to be able to do all of them though!
What advice do you have to give to others that are just starting out in this business? Or how to stay
in this business?
Take the leap! It's a huge leap of faith when you're starting out but the opportunities and friendships
you'll make are endless!
How do you handle thefts or copying of your works?
I don't worry about it too much, I do watermark all my works of art. I don't know what I'd actually do if that happened to me though. I should look more into that one!
What do you miss most about faire?
I always miss the friendships and seeing my faire family every weekend! It's something to look forward to.
Do you think that there will be faires in the future or what steps we should be taking next?
Absolutely, I'm actually announcing my next faires on my patreon soon! I'm so excited too. Here's a hint; it's in warmer weather and attracts over 70,000 participants. I can't wait to make new friends!
Are you doing any online sales or virtual performances?
Yes, we will have virtual holiday sale soon, and as an artist I was accepted into an Art Showcase in
Albany. It's December 17th if anyone wants to come!
Why Renaissance Faires or theme? What is it that made you so interested in this period?
I love the Renaissance World, that's what I'm going to call it, it's so amazing putting a show together and watching it come to life. It's literally the world from my books coming alive and playing Dice Knights is super fun too. It's an easier way for me to understand a form of D&D!
Are you creating more stock or more content?
Oh, my gosh, I am and it's been so hard keeping paintings and things for the children to do in stock! I'm so glad they're enjoying painting with me, but man is it hard keeping things on the shelf!
In five years (or less) my goal is to: Have an RV and travel to at least every Ren Faire once or
twice, but my home faire for as many years to come. That's Robinhood Faire & CTRF ( both are in
Connecticut).
At faire, what was your garb/attire your usual go to?
I switch my outfits every weekend but I absolutely love my Damsel in This Dress Corset, and of course my Elf ears. I can't be a dragon elf without them!
If events are not happening again this season, what do you plan on doing?
I'll sell online, and teach classes as that is my normal everyday routine but I really hope faires stay!
What makes your act/wares unique or different?
I'm the only person I know who offers art classes at a Ren Faire!
What makes you stand out?
My personality, and the fact people don't realize I'm talking to their inner child until they get up and say "This was fun, I wish I had seen you first" – it's always great to hear I made someones day!
What was your very first experience at a renaissance festival? What education or training if any do you have that led to what you do?
I am a certified therapeutic art life coach, and practicing artist, and pagan. I think all of that combined brought me into learning more about the renaissance faire at a young age (like 15) and it never stopped.
I am still continuing to learn and listen, and expose my work to others!
Plug your website or fan page here (or both)
my website is theartchildllc.square.site and my patreon is patreon.com/theartchildllc
facebook.com/theartchild – instagram.com/theartchildllc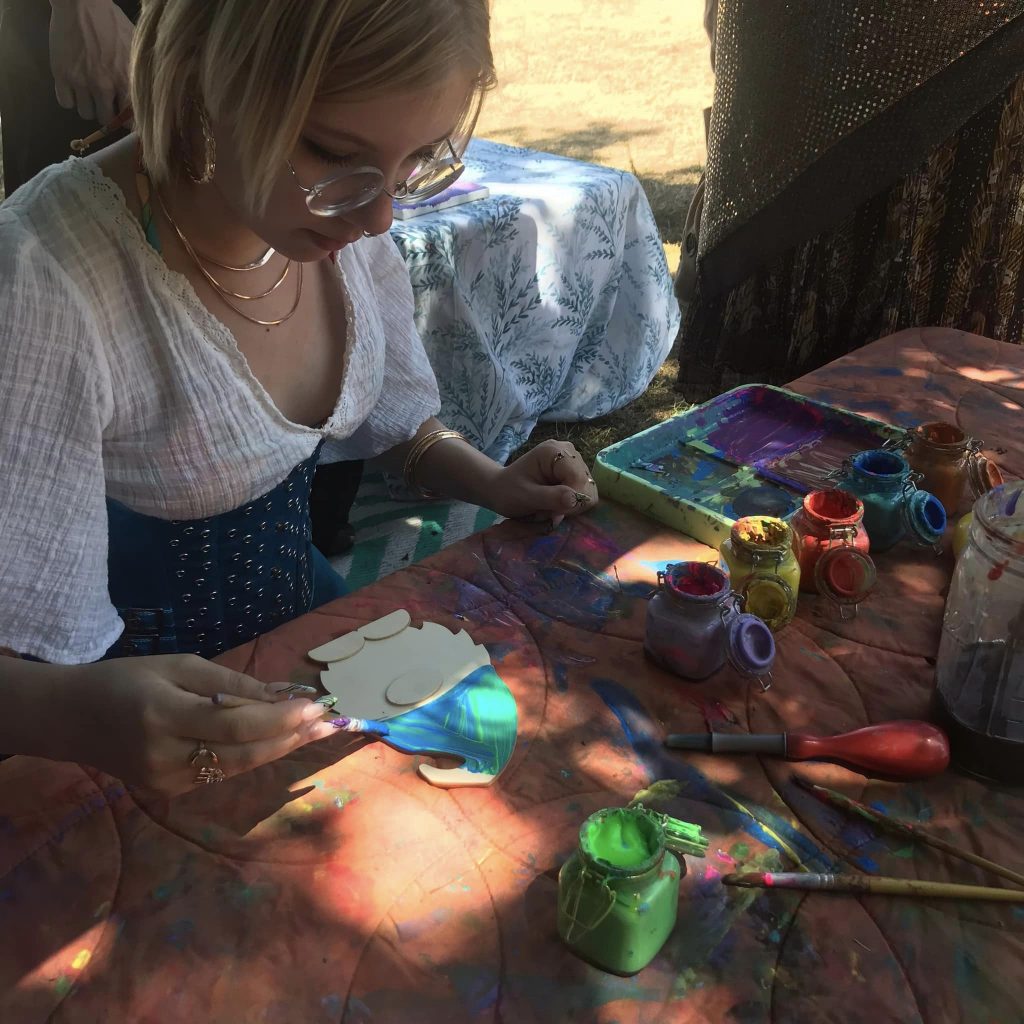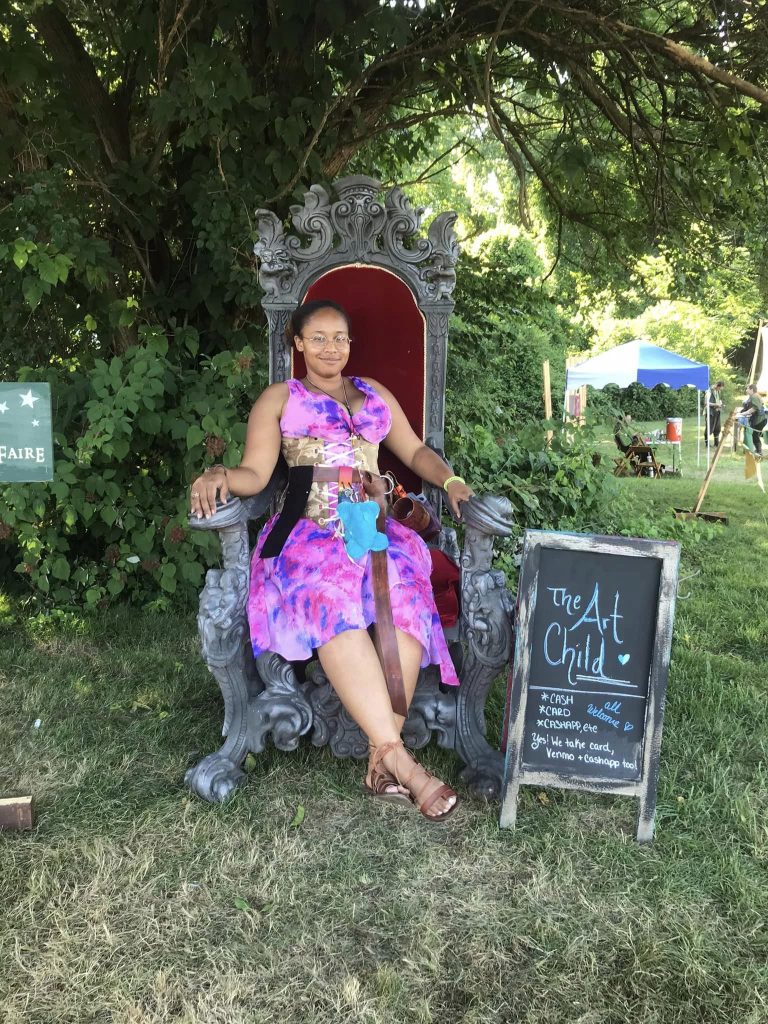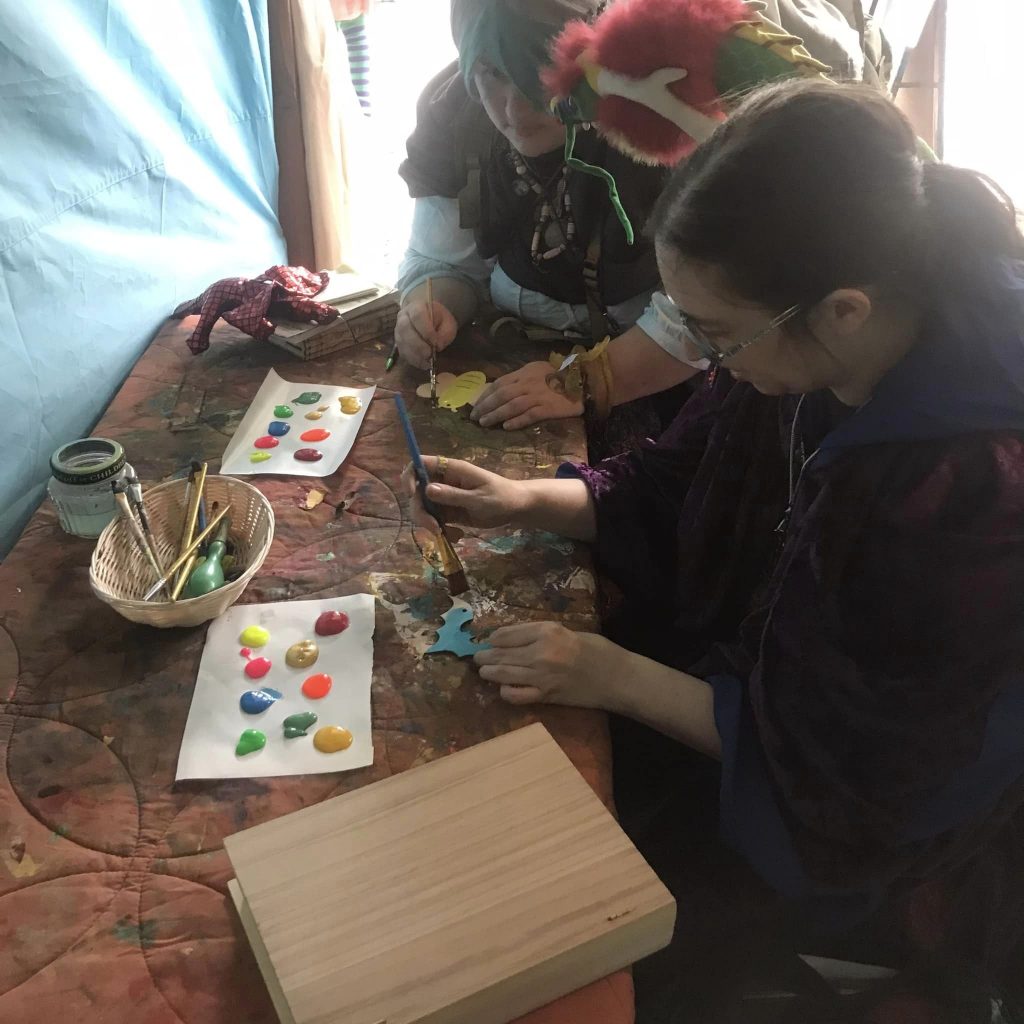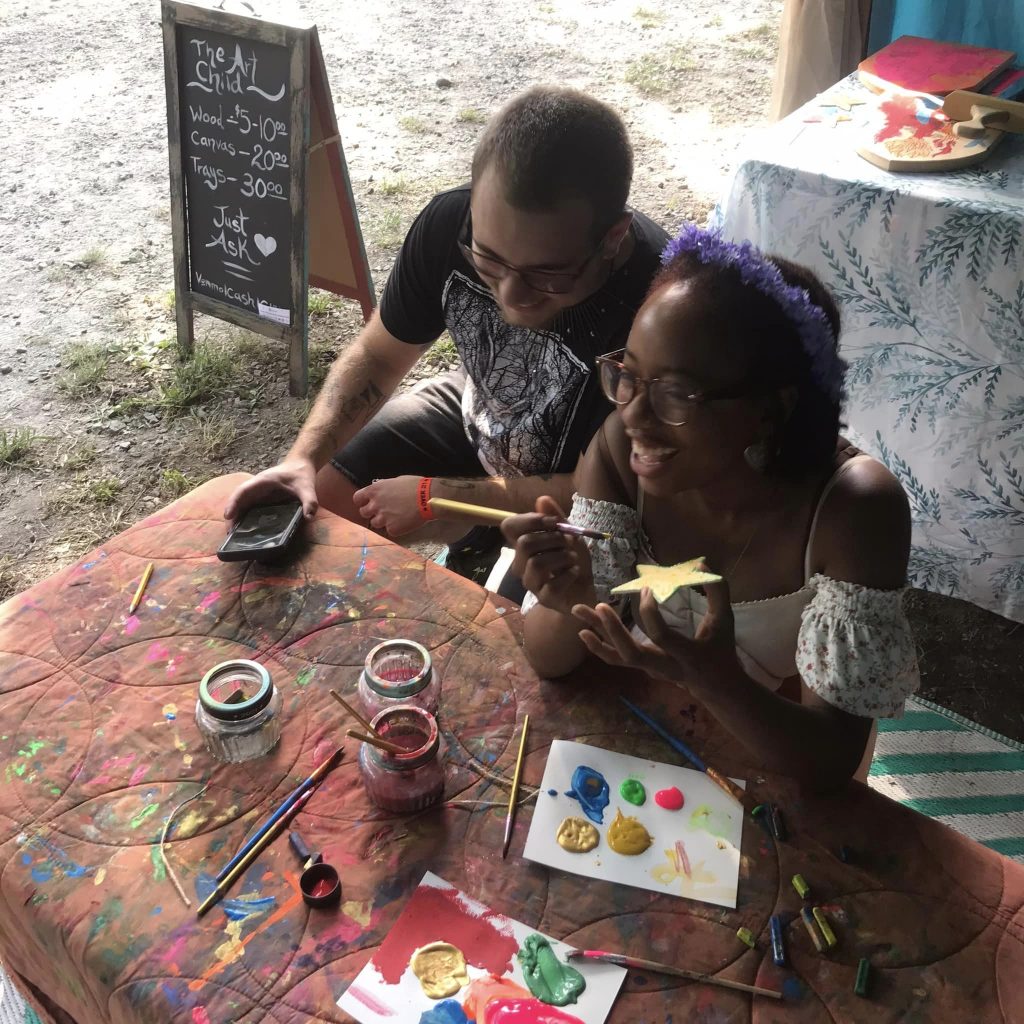 Thank thee to Alicia of "The Art Child" out of Connecticut for letting me interview her and what she does. It looks like a great addition to any faire. As a former owner of smaller events, having a tactile project to do for the younger kiddos that come through the gates, is a wonderful thing!
If you, your group, your troupe, or you have a book you would like to be featured here on the blog, please reach out to us on http://www.facebook.com/renperfmerch and we will reach out to you to fill out our questionnaire.
I hope you all have a lovely Renaissance season (I do know some Holiday shows are coming soon).
Your admin – Mother Phinn