What is it that you do or sell?
Menage a Moi Comedy provides humorously indecent, kinky/drinky entertainment with heart. One comedian, on stage playing with himself for your pleasure! Come for the sexually liberated, inclusive camaraderie. Stay for belly laughs with new friends and the organic unpredictability that ensures every show is unique.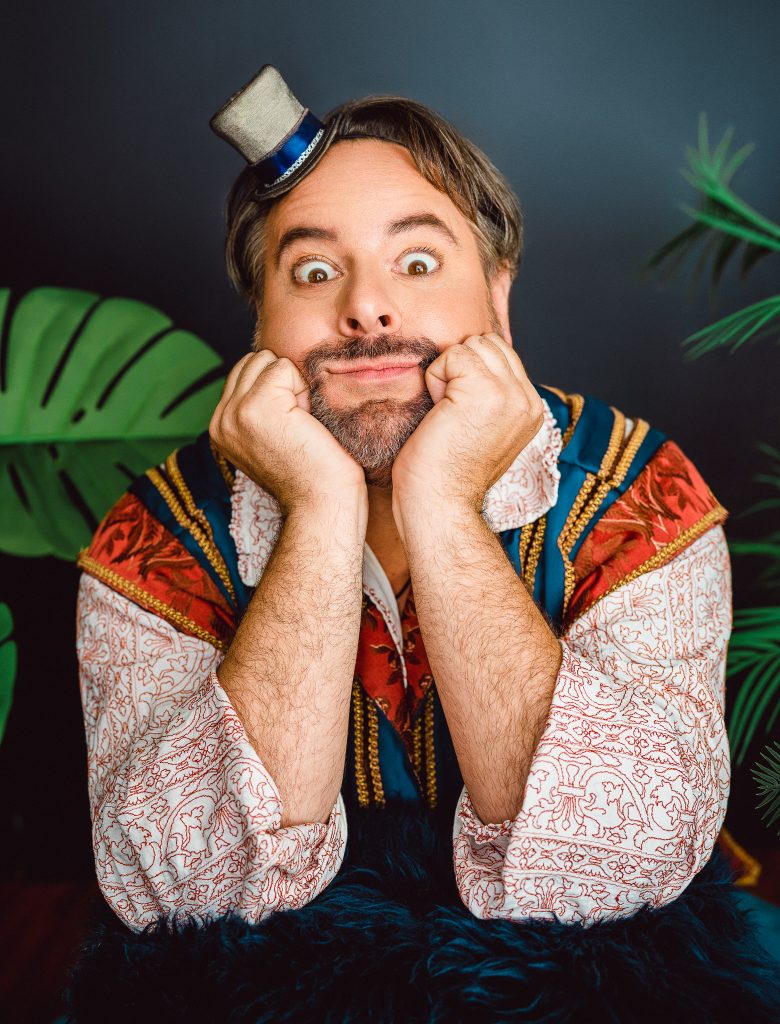 Where are you located?

Based in Schaumburg, IL, but regularly touring the US

What got you interested in starting out in this business?

Performance has always been a passion and love. Once I made someone smile or laugh during a show, I was hooked.

When did you start performing? In general or at renaissance fests? In 1993, I discovered a love for interactive, improvisational, physical theater while performing at the Bristol Renaissance Faire. In 2005, after the final stunt show, I would end my day singing and telling jokes alongside 'Little Jon.' That was the both of the 2 Merry Men pub show.
In 2016, a health emergency forced my singing partner off the stage for a time, we were scheduled and contracted perform a festival in less than a week. Luckily, the faire allowed me to create and audition a solo show. Seven years, four new festivals, and many comedy clubs later, Menage a Moi Comedy is only getting started, and I'm excited to see where it's headed, and grateful the Entertainment Director knew my abilities and gave me the chance.
What was your local faire or home faire?

My home faire is The Bristol Renaissance Faire, location in Kenosha, WI.

How are you compensating for this strange time we are in now?
What advice do you have to give to others that are just starting out in this business? Or how to stay in this business?

Learn as much of the business of performing as possible. You'll be handling finance, inventory, negotiating contracts, buying and selling merchandise, and so much more. Listen. Listen to what the show needs, what your partner needs, what the audience needs and be willing and able to evolve and grow.

How do you handle thefts or copying of your works?

Fortunately, I have personally only encountered it once (that I am aware of.) I just wrote the artist using my original song and asked that they give me credit before singing it and give proper credit and royalties should they record it

What do you miss most about faire?

The people. I get to see so many good friends for the limited time of that particular that Festival.

Are you doing any online sales or virtual performances?

My digital comedy and music are available at https://mamcomedy.bandcamp.com/

Why Renaissance Faires or theme? What is it that made you so interested in this period?

I grew up loving Dungeons and Dragons, fantasy, sword fighting, and all of it. I always wanted to perform and the faire just made sense! To be honest, 30 years later, I'm still horrible at Elizabethan history and information. Thankfully, I believe my particular brand of comedy is timeless.

Are you creating more stock or more content?

Always. I love creating more material and growing my show, and the interactive nature of my show ensure each show changes and the unexpected may happen.

At faire, what was your garb/attire your usual go to?

I love the classic Doublet/Vest and

What makes your show stand out?
I think people enjoy and remember my show because my audience inclusion and interaction makes them an active participant. I start each show planning only one bit or song. Everything after that is driven by the reactions and engagement of the audience. Each audience has its own energy which ensures every show transforms into a unique roller coaster of dips and turns.
What was your very first experience at a renaissance festival?
I fell in love with the Bristol Renaissance (aka King Richards) Faire when I visited in grade school. My friend's mom brought us to come and 'work' at the Brass Rubbing Shop, though little work was done.
What education or training if any do you have that led to what you do?
I've studied acting, improvisation, voice, clown, physical theater, stage combat, body language, and so much more. Everything we do as humans relates somehow to my style of comedy. I think my most important lessons have been my failures. Be it a bad joke, business misstep, personal screw up, when I have taken the time to reflect, my show and I both grow. Steve Martin once quoted a mentor of his as saying "You'll use everything you ever knew." I heartily agree.
Plug your website or fan page here (or both)
https://www.mamcomedy.com WWW.MAMCOMEDY.COM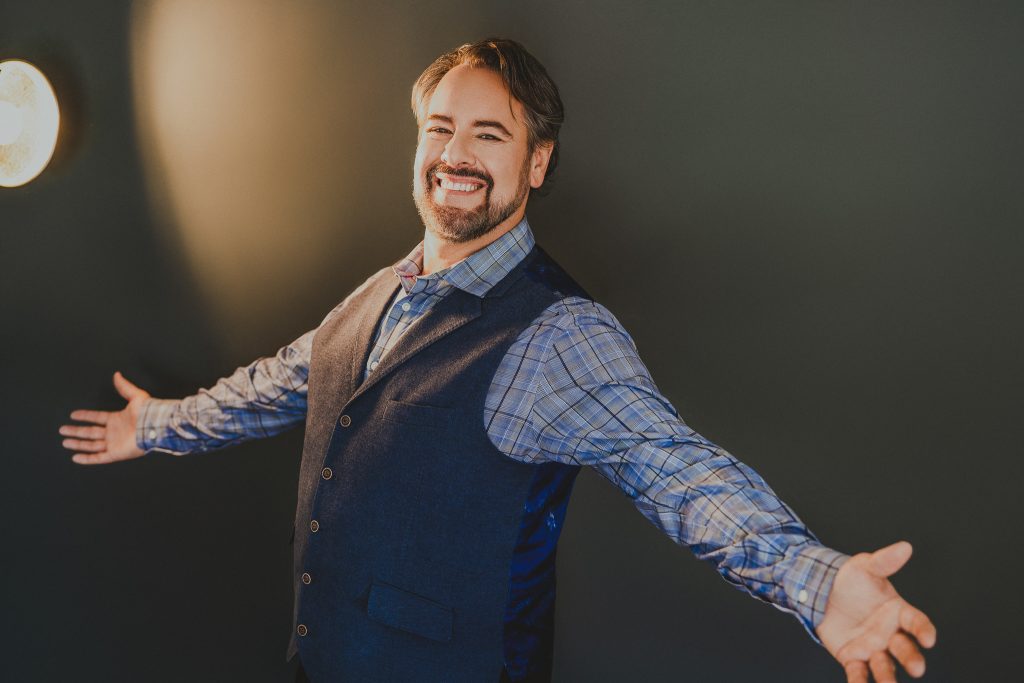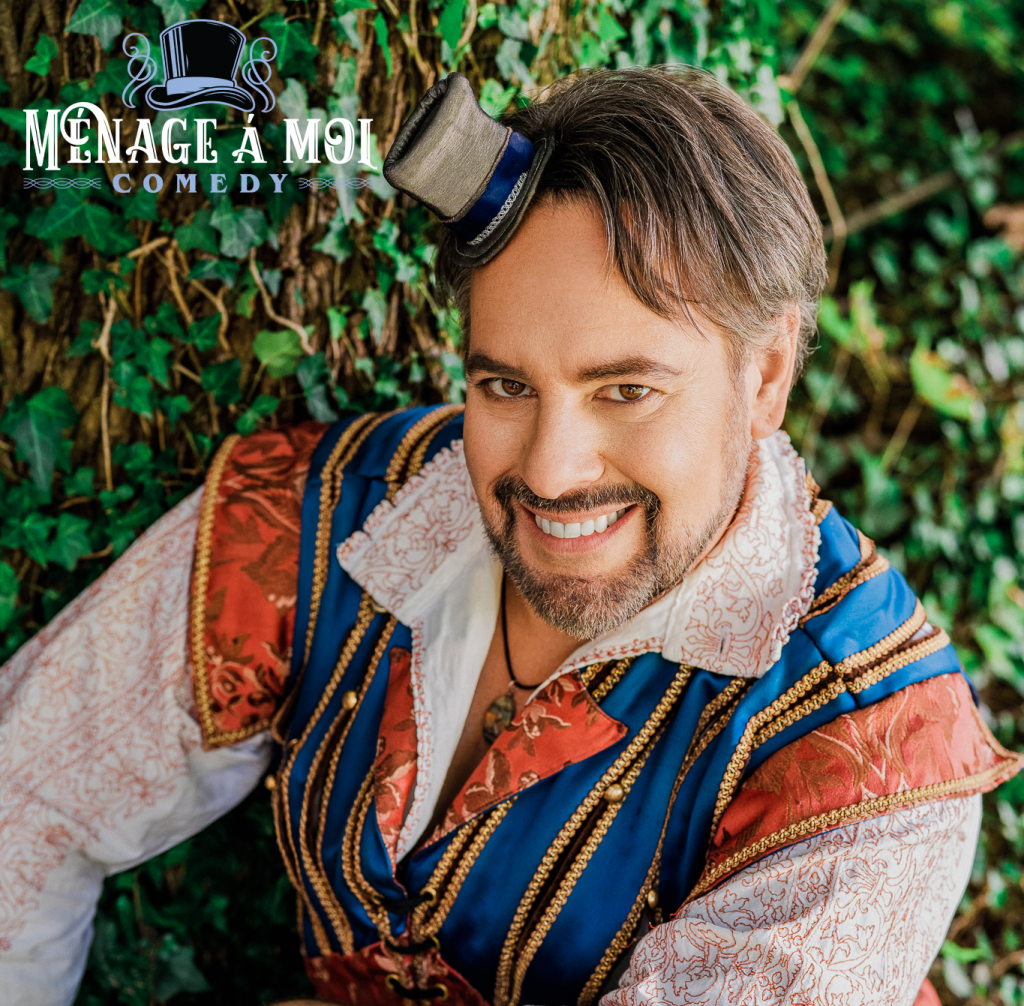 ---
Author's Note:
Thank you to Menage a Moi for letting us feature him on our blog. If you aren't aware, some shows/performances do a lot of what is called "Bawdy" shows. What this means is that the language used is not always PG13 and has some sexual innuendos. Think Shakespearean times and as we say at the faires, "If your children understand what we mean, then it's not our fault."
If you, your troupe, your group or if you are an author of a novel that is Renaissance Themed and would like to be featured, please reach out to us on our fan page (https://www.facebook.com/renperfmerch) and we will get back to you as soon as we can.
Again, please do your research on these performances or vendors, as this is just a platform for us to PROMOTE performers and merchants from around the USA and around the world.
HUZZAH!