What is it that you do? I think it's important if we start with a little bit of history. We started in this business 15 years ago and our games have been taking on a variety of incarnations until we finally found the one that actually works for us. What we do is we bring awareness to some disabilities through the inter activeness of our games. Because of C19 we had to pare things down, and we decide to go into a different direction. We've since learned how to utilize YouTube a bit more as well as other social media platforms. Because of this we've also decided to start holding events.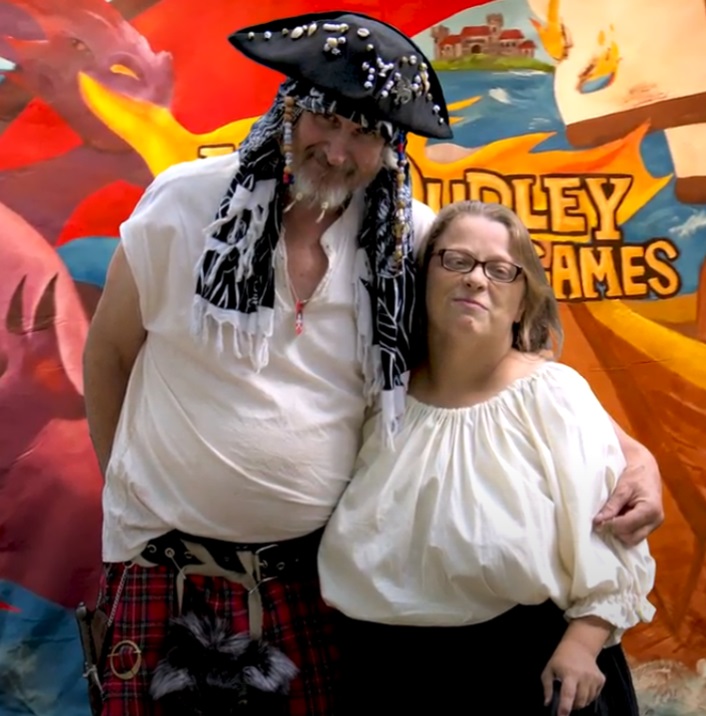 Where are you located? Portage, Michigan
What got you interested in starting out in this business? I went to Silverleaf Renaissance Faire for a birthday present from a girlfriend of mine and from that moment I've been hooked. My friend Andy had talked to me and basically put the idea in my head that there was no reason why I couldn't run a business just because I was disabled. He liked Mayfaire Renaissance Faire which is long gone. But his inspiration lives on in what we do.
When did you start selling or performing? We started with one business and a demonstration business in 2004 at Mayfaire Renaissance Faire
What was your local faire or home faire? Right now, we're kind of nomads. We would hope that our faire, MacDudley's Midsummer Fest, will be our home faire. When we are on the road it is Michiana Renaissance Festival.
How are you compensating for this strange time we are in now? We are just running and living through it. We are starting our own event in June and possibly doing one in December which would be an indoor event of course because it's Michigan.
What advice do you have to give to others that are just starting out in this business? Or how to stay in this business? Know that any business venture you start will more than likely lose money for the first 5 years and just keep your belt tightened.
How do you handle thefts or copying of your works? Those are both hard questions. But because I can't move around very well and I can't see that well I tend to want to keep things close at hand, and I memorize where things are in my booth. Also for our intellectual property I make sure that waiver is signed before I give anything out if at all or I just have things such as editing done right in front of me.
What do you miss most about faire? The enthusiasm and energy that people give off when they are at a festival or faire.
Do you think that there will be faires in the future or what steps we should be taking next? If there are people willing to dress up and they have some escapism for a while there will always be faires. As for the steps I need to take, that really depends on if they hire people or get more volunteers. What I suggest they do is they're going to have to start emptying the garbage more frequently at fairs plus they're going to have to be a little bit more vigilant with their sanitation rules and regulations at the food booths. Port-a-potties are another issue too, and there's not really not much you can do about that except keep the area around the port-a-potty as clean as possible.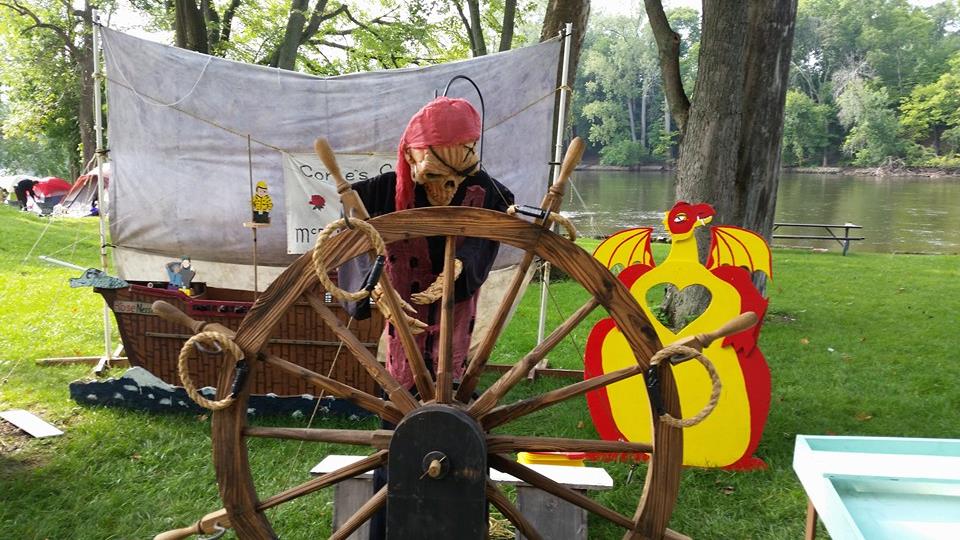 Why Renaissance Faires or theme? What is it that made you so interested in this period? As I said before it's escapism. But it goes much deeper than that for me. Being disabled in a non-disabled world gets really tired sometimes, and I just want to go someplace where I can be any character I want to be and if I have to write my disability into that character's role, I can do it and I'm free to do so. Also, it's great to disconnect from the technology of the day because it can be overwhelming at times.
Are you creating more stock or more content? At this point in time we're concentrating on our event(s), looking at the possibility of doing private parties, and we're also in the editing stage of our book saga that we're writing for kids.
Describe your first experience with us or your best experience (could be worst experience if you want to share that) Worst experience was with unfriendliness. They're herding people in and they're concerned with profits. Lanes are small for people with disabilities. Most positive was seeing Mayfaire and participating in it and starting our business.
In five years (or less) my goal is to: I hope that in 5 years we will have enough success where we can open our bed and breakfast and purchase land. One of the goals of this company is to not only be able to get a B&B that will be designed for disabled people vacationing, but also to hire disabled people to give them a place where they feel they can accomplish things feel comfortable. We are a for-profit company, but we still like to give back.
At faire, what was your garb/attire your usual go to? Our garb has really evolved over the years. For the last couple of years we have gone in tilts. My character is from Ireland and my husband's character is from Scotland.
If events are not happening again this season, what do you plan on doing? We are just not worrying about that we're going forward with our event(s). But if we have to cancel our event(s) then we would go right back to working on our books.
What makes your act/wares unique or different? We embrace disabilities, and we're willing to talk about them.
What makes you stand out? I am visually impaired with aspastic diplesia which is a form of cerebral palsy. I can't help but stick out.
What was your very first experience at a renaissance festival? Silver Leaf Renaissance Faire and then the second year I ended up being crowned as princess for a day because my birthday actually fell on a Saturday. What education or training if any do you have that led to what you do? I'm a people person, and I love to talk to people I'd rather talk to a person than artificial intelligence. I can't stand computers I have a love-hate relationship with them. My husband is an introvert. You can't really understand anything he says. But once he gets in costume and he's in with the public he just comes alive.
Plug your website or fan page here (or both)
Www.bit.ly/macdudleysmidsummerfest
http://www.macdudleydragonentertainment.com