Renaissance Performers and Merchants blogspot interview with Andrea Jones, author of the Hook & Jill Saga January 26, 2021.
What is it that you do or sell?
I'm Andrea Jones, author of the Hook & Jill Saga, award-winning novels of Neverland, for grown-ups [Reginetta Press]. Book One, Hook & Jill, is a re-imagining of the Peter Pan story, questioning the premise: is it truly desirable to remain a child, or is it a greater adventure to grow up? Other Oceans: Book Two of the Hook & Jill Saga is an unabashed study in loyalty, taking place on the high seas aboard Captain Hook's pirate ship. Other Islands brings the company back for shore leave on the Neverland, where the Indians and the pirates discover generosity in some usual – and unusual – forms. I'm currently composing Book Four, The Wider World. Five books are planned for this series, portraying Neverland as never before.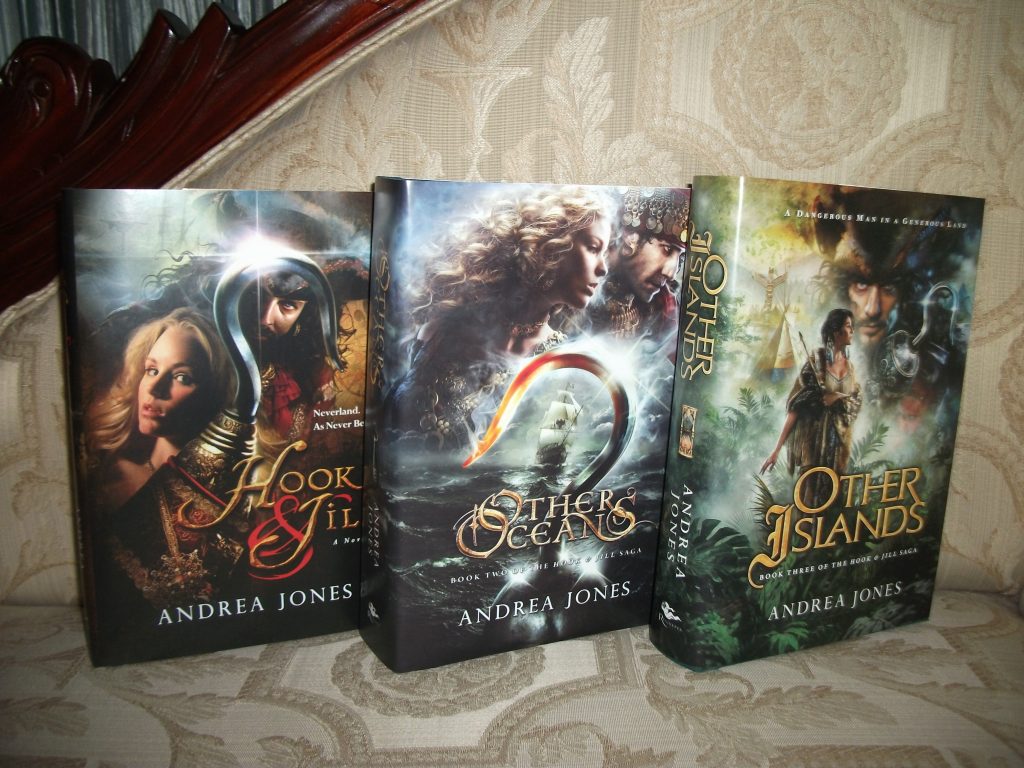 I'm also the editor of the Reginetta Press Classics Restoration Program, bringing beloved old texts back to readers in their original forms before the authors' words are lost to time and retelling.
What got you interested in re-imagining J.M. Barrie's story of Peter Pan, Wendy Darling, and Captain Hook and his pirates?
When my son was little, I took him to see the 2003 Universal release, Peter Pan. Director P.J. Hogan hired Jason Isaacs (think Mr. Malfoy in Harry Potter) to portray a wily and sensual Captain Hook. While remaining true to Barrie's balance between child's play and adult fulfillment, Hogan took the story right up to an adult precipice. He allowed a touch of grown-up violence, and offered hints at the sexuality awaiting a Wendy who might be tempted to grow up after all. I was intrigued by Hogan's treatment, thinking…how would this story play out if it were, in fact, intended for adults? As Barrie states in his opening line, "All children, except one, grow up." So, what if Wendy and the Lost Boys are beginning to grow up against Peter Pan's rules? What punishment might Peter reserve for them? What further adventures might they experience on the magical Island, once mature themes come into "play"?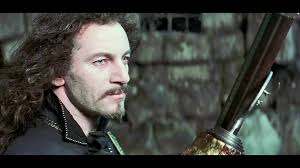 Why sell your wares at Renaissance Faires?
I've been fascinated by this historical era my entire life, but, oddly, when the inspiration struck for my first novel, it took place in J.M. Barrie's Edwardian-era setting. Not to worry, though! People who love a good novel will be drawn to it, and I have no trouble interesting Ren Faire readers in my re-imagination of the Neverland. I've found a warm welcome from readers at all kinds of gatherings – Ren Faires, Steampunk, Highland Games, Comic Cons, Pagan celebrations, Tall Ships Festivals, and of course, Pirate Festivals, where a "re-boot" of Captain Hook is in demand. What counts is that the Hook & Jill Saga holds the kind of magic that transports us to another time and another place, where garb is god and a good story, well-written, reigns supreme…like Elizabeth the First!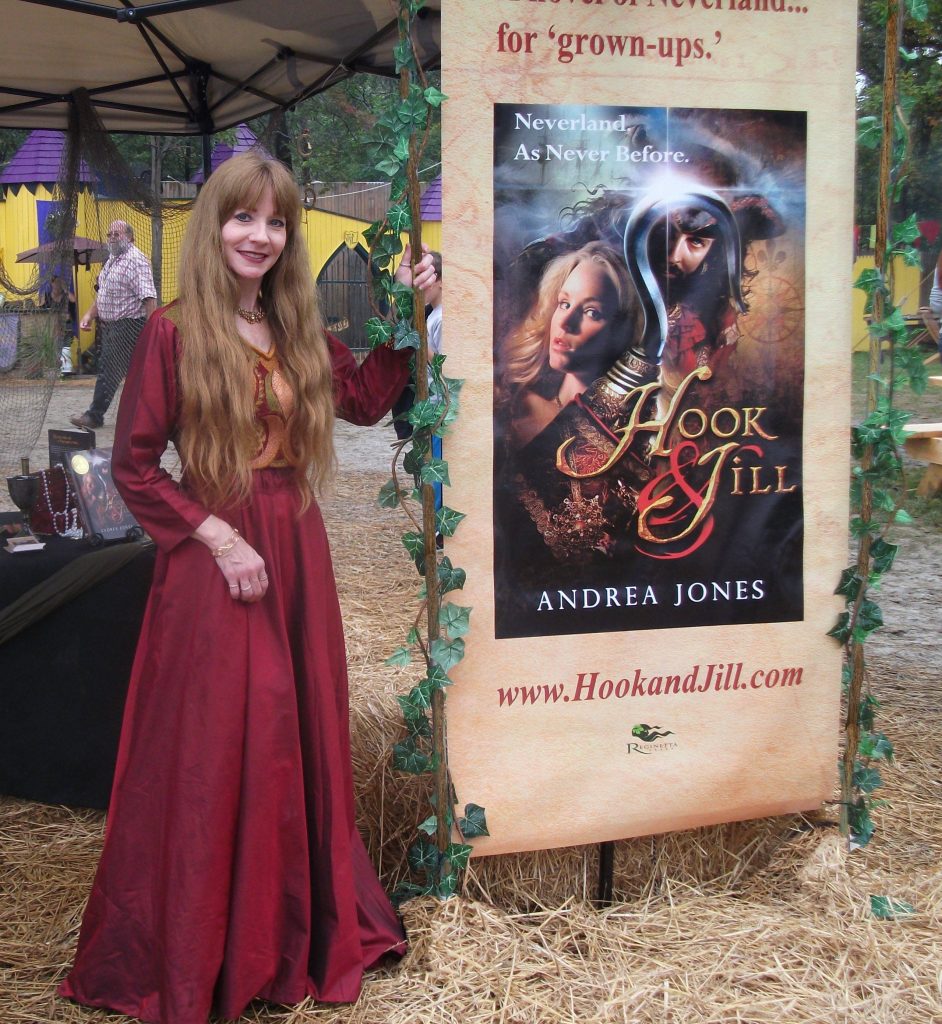 Introduce us to your Classics Restoration program.
One of the first works I restored was the story that started it all for my writing, Peter and Wendy by J.M. Barrie. My books are closely based on Barrie's Peter Pan story, which is NOT just for children. In writing my series, I remained faithful to Barrie's vision of the Neverland, changing only those characters that must change in order to aim the story at adults. I consulted the original constantly, and was surprised to find discrepancies between older printings and more recently published versions. Appalled at the discovery that Barrie's classic 1911 text has been altered by modern publishers, I sought out a first edition, and, word for word, put Barrie's work of genius back to rights. I've included the original F.D. Bedford illustrations. I wrote an Editor's Note, "A Gift of Ghosts," discussing the inspiration behind Barrie's timeless tale, and I prepared a Timeline to show how the Wonderful Boy, Peter, evolved over Barrie's long career.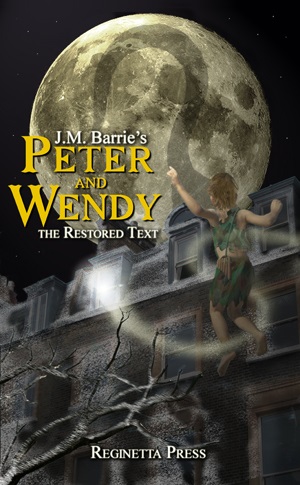 What other Classic books have you restored that would interest a Rennie?
Because Alexandre Dumas' Robin Hood novels are difficult to find in print in English, I've reproduced them as paperbacks and e-books. Alfred Allinson's translations offer the archaic, old-timey language we love to hear at faire. The Prince of Thieves (1872) and Robin Hood the Outlaw (1873) enjoy a high rate of interest at the various kinds of festival I attend. Another famous author I've restored is H. Rider Haggard. The Virgin of the Sun (1922) takes us from Medieval England to ancient Peru, and is one of Haggard's lesser known adventure-romance novels. It is now easily found in paperback or e-format from the Reginetta Press.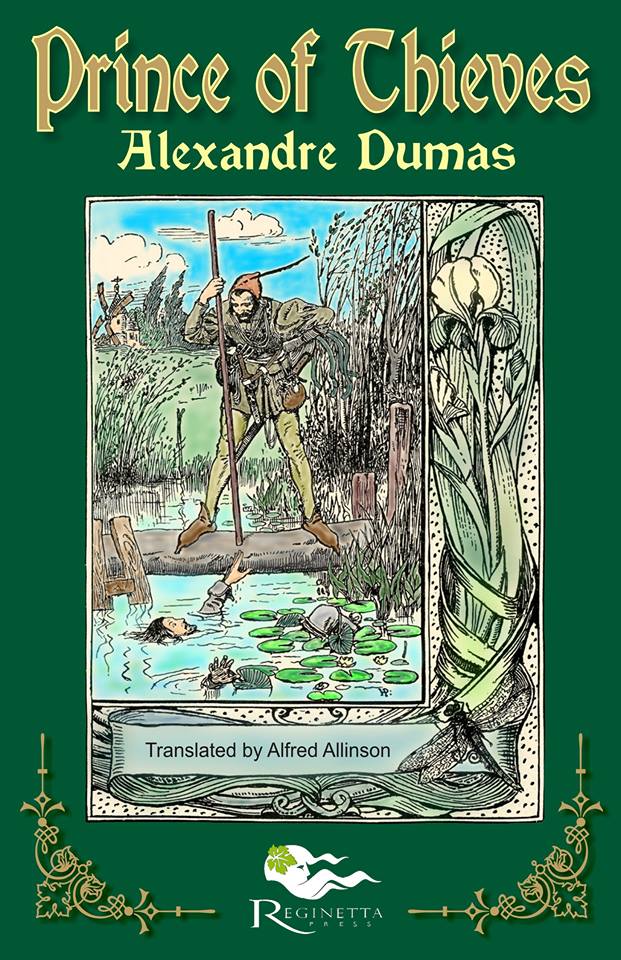 What is your local faire or home faire?
My home faire is the Bristol Renaissance Faire. I've visited this delightful festival as an attendee on numerous occasions, and I've been lucky enough to sign and sell my books in that exquisite location. I look forward to returning.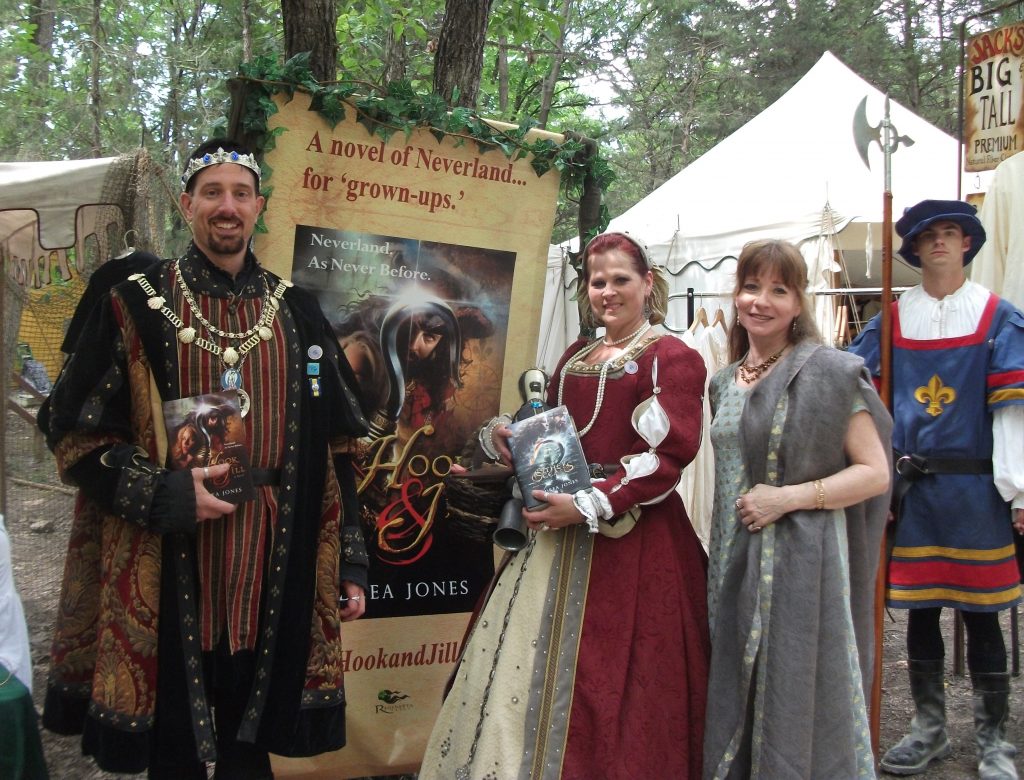 Do you travel and if so, how far will you go?
Based near Chicago, I've signed books at the many Ren Faires that surround me in the Midwest, big and bitty. As I mentioned, I don't stop at the Renaissance theme. I find that wherever folks adopt themed garb, the Hook & Jill Saga is welcomed by eager readers. I've traveled within most of the Midwestern states, pushing north to Duluth, Minnesota's Tall Ships, east as far as Pennsylvania – and as far away as the Maryland Renaissance Festival. I'm always eager to visit my readers' favorite faires. Whatever the distance, don't hesitate to invite me to your fest or your book shop!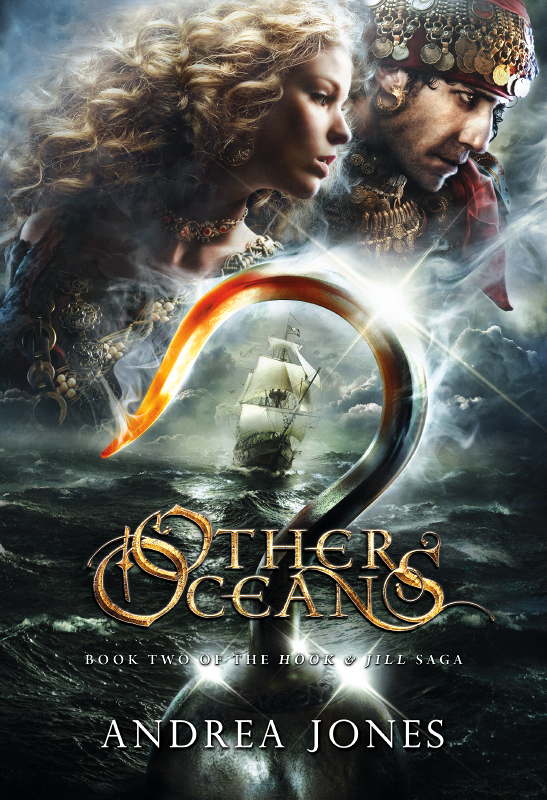 What advice do you have to give to authors who are just starting out in this business?
Dress to stand out in the crowd of performers and vendors. Be prepared for all weathers, and keep your books in water-proof boxes. (I learned the latter lesson at the Port Washington Pirate Festival – my first vending venue – as the rain seeped into the vending tent and formed a lake around my feet). I find it helpful to call out to passers-by and invite them to my table with a high-quality hardcover copy of Hook & Jill ready to place in their hands. Readers enjoy talking with authors, and I adore talking with readers beyond the sales pitch itself. Tempting as it is to explore the faire, don't leave your sales area more than necessary. You never know what or who you'll miss when you're away. Bring your bookmarks wherever you go, and hand them out to anyone who is interested, because you can't expect shoppers to remember your book title or your name when they're surrounded by the enticing sights and sounds of the Ren Faire.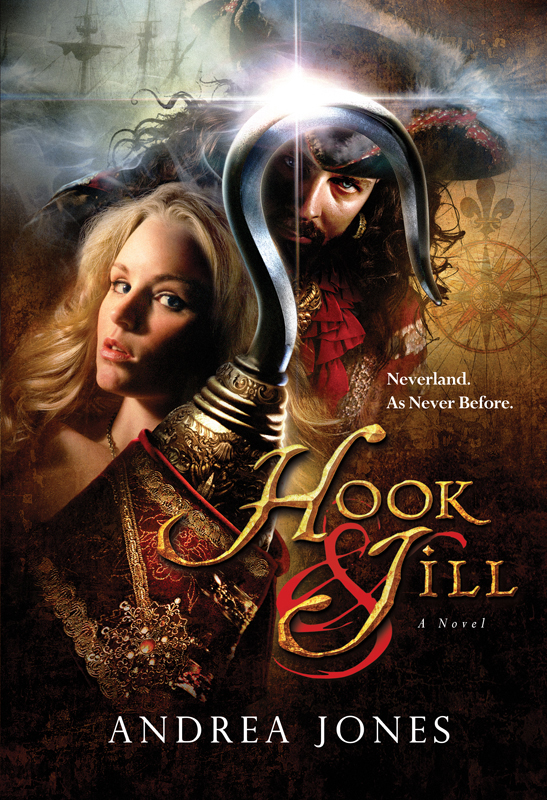 How has the pandemic affected your author events?
I had a full season of faire bookings set to go in 2020, but was able to attend only one, in March. I'm missing my readers! I've re-booked these dates for 2021, as listed on my website and the Hook & Jill Facebook page. I'm hoping these events materialize once the vaccine is widely available. My novels are sold on line as e-books, and the hardcovers are offered by bookstores and on Amazon, so you don't have to wait for me to come to town to start reading the Hook & Jill Saga. I'm delighted to sign and personalize any books ordered through my website or through a conversation with me over social media.
Plug your website or fan page here (or both).
You'll find full information on the Hook & Jill Saga and on my Classics Restoration Program at https://www.reginettapress.com/hookandjill/ You can follow our everyday adventures on Facebook at https://www.facebook.com/HookJill Don't hesitate to talk to me there, ask questions, and post your photos and comments on my stories. We authors don't get to hear from our readers nearly enough, and I encourage a two-way conversation. The Neverland awaits. Fly back to our enchanted Island, and indulge in its wonders!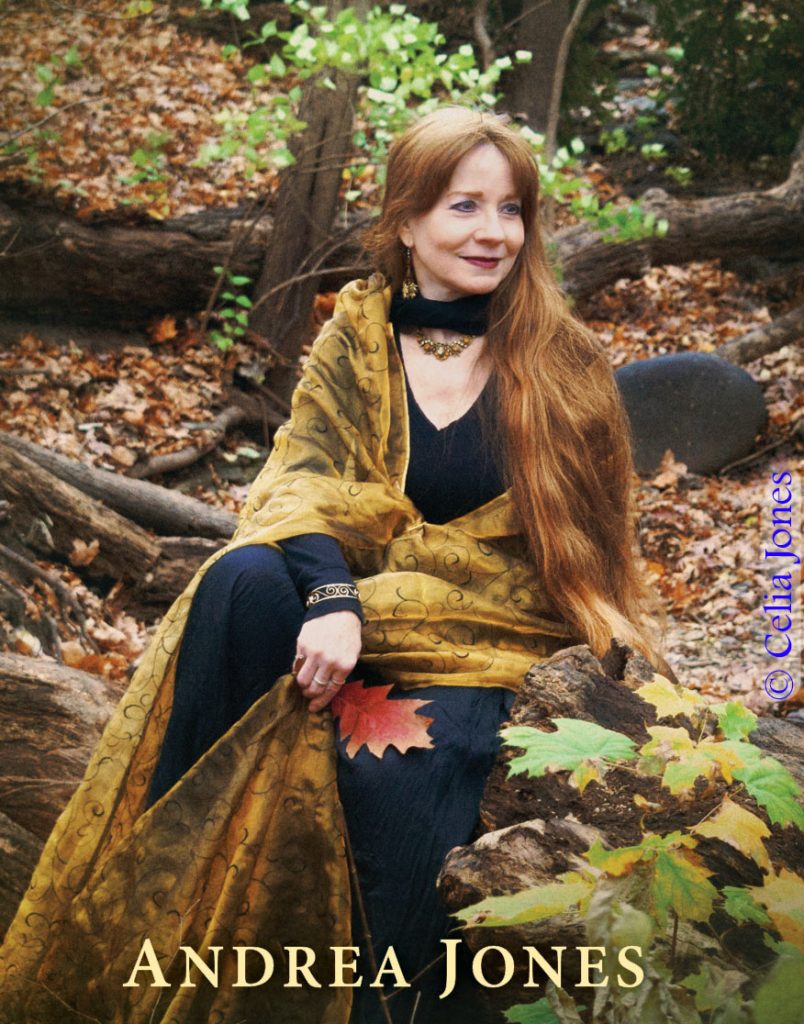 The Hook & Jill Saga by Andrea Jones:
Hook & Jill
Other Oceans: Book Two of the Hook & Jill Saga
Other Islands: Book Three of the Hook & Jill Saga
Coming soon – The Wider World: Book Four of the Hook & Jill Saga
and… Peter and Wendy: The Restored Text by J.M. Barrie
Photos (sent in 3 separate e-mails) include:
Cover images of Hook & Jill, Other Oceans, and Other Islands.
Author photo (photographer credit printed on the photo).
Author Andrea Jones at the Michigan Renaissance Festival.
All 3 books of the Hook & Jill Saga together.
Jason Isaacs as Captain Hook in the 2003 motion picture, Peter Pan.
The royalty of the St. Louis Ren Faire posing with author Andrea Jones.
Shoppers at the Hook & Jill booth at the Michigan Ren Fest.
Cover image The Prince of Thieves by Alexandre Dumas
Cover image Robin Hood the Outlaw by Alexandre Dumas
Cover image The Virgin of the Sun by H. Rider Haggard
Cover image Peter and Wendy: The Restored Text by J.M. Barrie
A/N I'd like to thank Andrea Jones for letting us into her fantastic world of Peter Pan and Captain Hook! When my son was younger, we took him to Disney and he actually met "Captain Hook". Later, I asked him what his favorite thing was and he said meeting "Captain Hook" as he shook my hand. I encourage you to go and check out her books. I know I will be checking them out for myself!
If you or your group, or troupe would like to be featured on this blog, please reach out to us on our fan page at http://www.facebook.com/renperfmerch