• What is it that you do or sell?
I make functional art in polymer clay. I specialize in drinkware, including: Tankards, chalices, goblets, flasks, shot glasses, decanters, and collapsible cups. I also offer custom work, which can be a really wide variety of things, including: cellphone cases, wall plates, containers.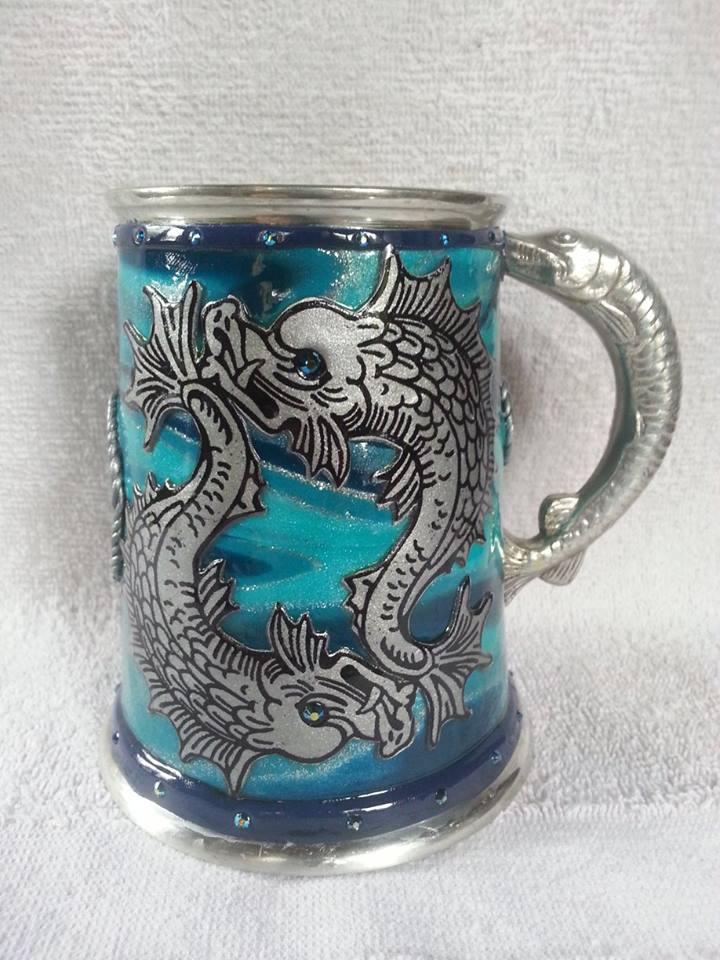 • Where are you located?
The north coast of California
• What got you interested in starting out in this business?
I've been part of faire one way or another since 1978. first as patron, then playtron, boothie, and finally my own booth
• When did you start selling or performing?
Opened my own booth in 2006
• What is your local faire or home faire?
There aren't any. No faires in my county, I count a faire within a 6 hour drive to be a home faire.
• Do you travel and if so, how far will you go?
I travel from the north coast of California up to Washington
• What advice do you have to give to others that are just starting out in this business?
You can do this! Plan on working for a slave driver/yourself, and keep focused. Do NOT change your product yearly, you'll never build a clientele
• How do you handle thefts or copying of your works?
I just can't worry about it. Yeah, i don't like it, but in all reality, by the time someone copies my work, I'll be making a better version. I've put in a LOT of 12 and 14 hour days developing my skills, that's really hard to duplicate
• What is your favorite food at faire?
That's easy! Daybreak Crepes. Like any other merchant, I am superstitious, and I make more money with my lucky crepe
• What would you say (nicely) to a faire manager or owner?
Thank you for letting me play in your sandbox! Thank you for getting people through the gate!
• What is your set up for your booth?
My latest booth is a trailer booth. It looks like a standard wall tent, once set up. I am getting older, and putting up a structure from scratch is just getting too hard on me. I LOVE my new booth! It took us 4 years to build.
• Why Renaissance Faires or theme? What is it that made you so interested in this period?
I've loved faire from the get go. And I love the people I work with. Craft shows are cutthroat. As an example………I got gravely ill at a show………I'm talking projectile vomiting from both ends. My sister took over my booth, other sisters brought me clean clothes, security checked on me hourly, as well as giving me a safe place to sleep on Sunday night. A dear friend took one look at my white face during strike, and folded all my canvas, including my 80 pound roof, for me. That would NEVER have happened at a craft show. There, people are just glad to have less competition.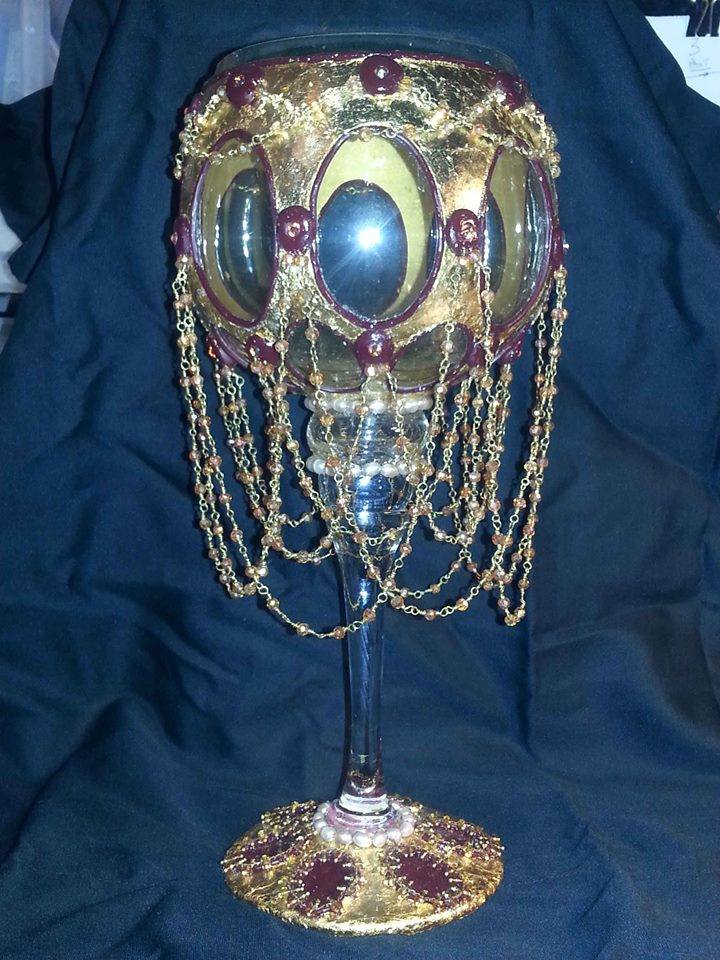 • Do you do this all year long or do you just do it once a year?
I am on the road May-October
• Describe your first experience with us or your best experience (could be worst experience if you want to share that)
When a lady came into my booth, and said "OMG, YOU'RE The Clay Goddess! I've always wanted to see your booth" . Turned out her sister had gotten her a gift the year before. She was from New York……..I was deeply flattered
• The other highlight…………being awarded the Royal Warrant from Royal Majesty Queen Elizabeth of Canterbury Renaissance Faire, as Glassmaker to the Queen
• How else do you promote your wares?
Pretty much on Facebook. It is the right price (free)
• How did you find out about us?
Facebook
• In five years (or less) my goal is to:
I'm there. I'm healthy, just celebrated my 40th anniversary, and I'm doing what I love. Doesn't get better than that, does it?
• At faire, what garb/attire is your usual go to?
My leather jerkins, tops by Whimsy Wear, pants by Designs by Kate, and my faithful booths from Wylde Phoenix Leather
• How many Faires other than those you are vending or performing do you go to?
Only one. Going to do a reunion at Northern California Renaissance faire with one of my sisters
• Plug your website or fan page here (or both) :
http://www.facebook.com/theclaygoddess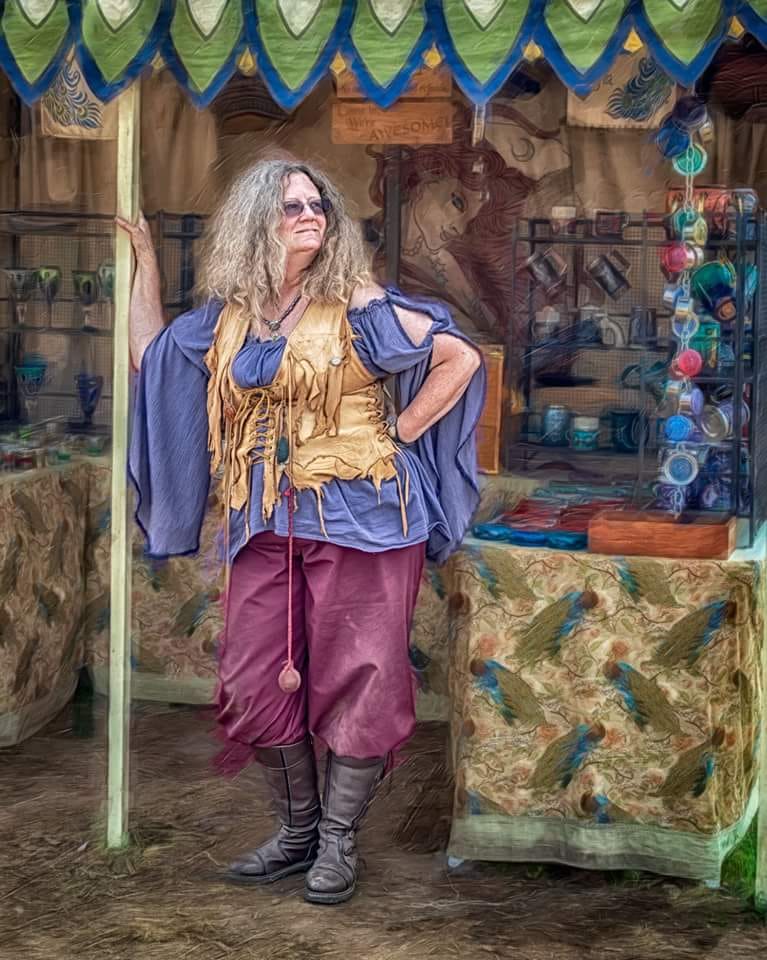 A/N : Thank you so much to Gypsy for being featured this week on Renaissance Performers and Merchants blog. I wanted to add a personal note that I bought a mug for hubby for his birthday which was featured on her Facebook page. He really liked it! <3. I have 5 more interviews coming up, so stay tuned for those!
Thank you for your support of this blog and of course our fan page which can be found on Facebook at http://www.facebook.com/renperfmerch
I would also like to add that I DO NOT do any research on any performers/merchants or shows that get featured here. This is just a promotional service. If you have questions about the folks that are being featured, please reach out to them directly.
I hope you all are having a wonderful summer so far! – Gia